The detail of this page
The Hong Kong ICT Awards, supported by Office of the Government Chief Information Officer, Hong Kong Productivity Council, Hong Kong Trade Development Council and organised by ten local professional associations, aim at building a large scale and internationally recognised branding of ICT awards of Hong Kong.
The Best Public Service Application Award organised by the Hong Kong Institution of Engineers aims to encourage the development and implementation of ICT solutions in Government departments and non-Governmental organisations to better meet citizens' demands in respect of public service delivery.
Our 'e-Registry – E-Incorporation and One-stop Service for Company Incorporation and Business Registration' has been awarded the Best Public Service Application (Transformation) Gold Award in the Hong Kong ICT Awards 2012.
The Judging Panel complemented that the e-Registry well transforms traditional paper-based processes into convenient, fast, secure and user-friendly electronic self-services, which greatly enhances Hong Kong's competitiveness as a leading international business and financial centre.
An Award Presentation Ceremony was held on 3 April 2012.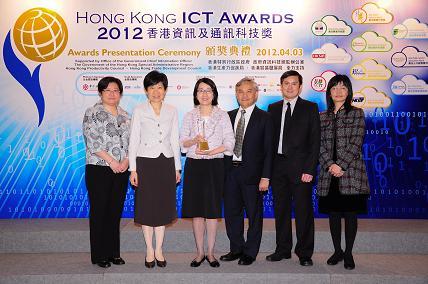 Ms Ada Chung, the Registrar of Companies (centre), and the Registry's
officers at the Hong Kong ICT Awards 2012 Presentation Ceremony.