Companies Registry Customer Service Survey 2011
To better understand the level of customer satisfaction with the services provided by the Registry and their expectations and help us to enhance our customer services, the Companies Registry has commissioned an independent research agent to conduct the Customer Service Survey 2011. The survey results showed that 97.4% of our customers were satisfied with our services and the overall customer satisfaction rating was 3.83.
The level of overall customer satisfaction and satisfaction ratings for individual service attributes are highlighted below.
Level of Overall Customer Satisfaction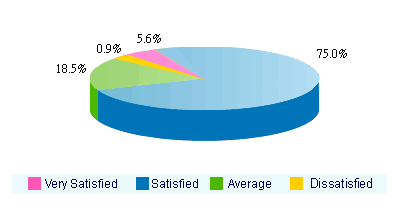 | | | | |
| --- | --- | --- | --- |
| Very Satisfied | Satisfied | Average | No Comment |
| 8.1% | 66.1% | 23.2% | 2.6% |
Satisfaction Ratings for 2009 and 2011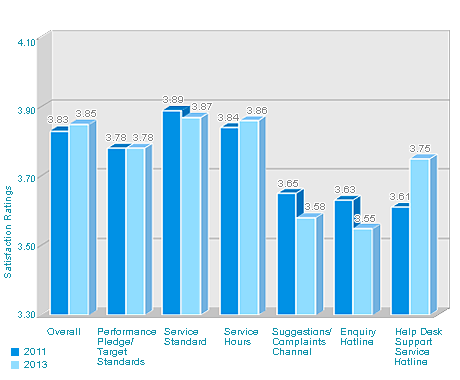 Overall
Performance Pledge/
Target Standards
Service Standard
Suggestions /
Complaints Channel
Enquiry Hotline (IVRS)
Help Desk Support
Service Hotline
2009
3.88
3.71
3.86
3.63
3.54
3.58
2011
3.83
3.78
3.89
3.65
3.63
3.61
Notes:

1.

The last Customer Service Survey was conducted in 2009.

2.

A five-point scale, ranging from "Very Satisfied" (Score 5) to "Very Dissatisfied" (Score 1) is used for respondents to rate the satisfaction level of various services. Satisfaction rating is the mean score based on the five-point scale to indicate the customer satisfaction level in the overall performance and individual service attributes.
Overall Rating for the Electronic Services at e-Registry
With the launching of the e-Registry portal in January 2011 and implementation of new one-stop electronic services at the e-Registry in March 2011, the time required for electronic incorporation of a local company and business registration has been shortened from an average of four working days to less than 24 hours. Local companies can also submit Notifications of Changes of Company Names through the e-Registry. The survey results showed that the overall services provided by the e-Registry were rated as satisfactory (Score: 3.50 on a 5-point scale).
The overall satisfaction score of the following aspects was over 3.5:-
| | | | |
| --- | --- | --- | --- |
| Signing of e-forms (by e-Certificate or password) | Payment methods | Format of the electronic Certificates of Incorporation | Time required for completing the e-incorporation process |
| 3.57 | 3.92 | 3.58 | 3.71 |